I am not a good videogame player.

I've been in Webkinz nearly two years (it's two years next week) and played innumerable games of Cash Cow and Candy Bash 2 and Go-Go Googles (which I find the most manageable) until my eyes hurt and my wrist wouldn't respond anymore and have never won one stinking trophy. Never, ever, ever. I rejoiced in Webkinz Day since I finally got a trophy just for being around.

Then came Eager Beaver Amusement Park, which is based on a favorite, Bookworm, and it has a trophy. It's a bear to play, though, because it's harder than Bookworm. There are a lot more consonants than vowels, and at a certain point, when you get the fiery tiles that break through the other letters (when they get to the bottom, you've burned down the park and lost the game), you have to make your words with a certain number of letters. Since they don't give you a lot of vowels, this is a right pain in the butt.

But tonight I kept playing, and wangling, and scrambling...and oh my ears and whiskers, see what I did: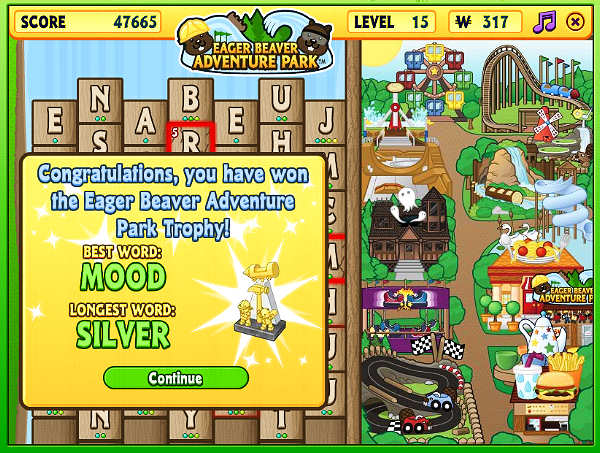 You even get to see the park completed (the last thing you build is the roller coaster).

Once you win the trophy, however, you can still play the game, but no additional trophies are forthcoming.